2002:
May / June / July
August / September / October
November / December
2003:
January / February / March
April / May / June / July
August / September / October
November / December
2004:
January / February / March
April / May / June / July
August / September / October
November / December
2005:
January / February / March
April / May / June / July
August / September / October
November / December
2006:
January / February / March
April / May / June / July
August / September / October
November / December
2007:
January / February / March
April / May / June / July
August / September / October
November / December
2008:
January / February / March
April / May / June / July
---
Thursday, May 30, 2002, 12:25 am
Here's an example of a little controversy involving the handling and reporting of probably trillions of dollars of public funds. Media outlets have ignored it almost completely. It's GASB 34 (pronounced GAZ-bee thirty-four).
GASB is the Governmental Accounting Standards Board, and "GASB 34" is the universally used shorthand for its 34th statement, issued in June 1999, titled Basic Financial Statements and Management's Discussion and Analysis for State and Local Governments. It is said to be the biggest revolution in local government accounting and financial reporting ever, and naturally, it is a colossal headache for everyone involved in preparing those reports.
GASB 34 is a giant step in the ongoing trend toward making government accounting more like business accounting, and that's a good thing. The most momentous change is the new requirement that local governments account for and depreciate their infrastructure assets, including roads, bridges, tunnels, sewer systems, dams, lighting systems, etc.
Under the old financial reporting model, still in use in most jurisdictions, a city or county might spend many millions on a public works project, but as far as accounting was concerned, the money spent on the project was just gone. Deferral of needed maintenance, always an easy political choice, and the resulting deterioration of important assets, would not be obvious from review of a municipality's financial reports. GASB 34 is intended to force that information into the open, and indirectly to encourage more responsible infrastructure maintenance decisions.
But GASB 34 doesn't just revolutionize local government asset accounting. It requires new government-wide statements in preference to the usual bewildering array of special funds each reported separately. For the first time, it will be possible to make meaningful financial comparisons between local governments. And it creates a new section, a Management Discussion and Analysis, to "provide an analytical overview of the government's financial activities." Ideally, such a chapter will make the financial statement easier to understand. And it puts local government officials on the spot to affirmatively explain, with more than the customary shrug, the peculiarities of the past fiscal year.
The new requirements of GASB 34 are being phased in gradually, with the largest local governments (like ours) affected first; the smallest ones get several more years.
Washtenaw County, Michigan, where I am an elected commissioner, has a population of 322,895 (2000 census). The county government has about 1,300 employees and annual revenues of about $136 million. Our fiscal year is the calendar year. Under the GASB 34 implementation schedule, we would be required to issue the first annual financial report under the new model in 2003 for the 2002 fiscal year. However, we beat that deadline by a year: our 2001 financial report, fully compliant with GASB 34, was published March 31, 2002. We are one of the first Michigan local governments to achieve this.
Our independent auditors, Rehmann Robson, commented as follows:
We wish to congratulate the County and all those involved in implementing GASB Statement No. 34. This is, by far, the most comprehensive and complicated change in the financial reporting requirements for state and local governments in our history. Not only did the County early implement these new standards, but also it did so while maintaining its commitment to publish [the Comprehensive Annual Financial Report] by the end of the first quarter. This is remarkable and quite an accomplishment!
This is a good thing for Washtenaw County, not just because we have quickly put all the anguish and hand-wringing about GASB 34 implementation behind us, and taken a leadership role among local governments statewide, but because it demonstrates to the financial community that we have a financial and administrative staff which is highly capable and on the ball, and political leadership which takes responsible financial management seriously.
---
Wednesday, May 29, 2002, 12:50 am
Nathan Newman objects to my dismissal of proportional representation, commenting as follows:
Larry Kestenbaum expressed his skepticism of proportional representation as a solution to the problem of gerrymandering, noting the "Japan's Diet (national legislature), and the Illinois House of Representatives in 1870-1980, offer two appalling examples." It's kind of rhetorical dirty pool to cite possibly the two worst examples on earth (throw in the old Italian system to make it a trifecta), when there are numerous honest and well-functioning proportional systems around the world. In fact, purely single-member district systems as in the US are in the distinct minority...
First, I had no idea that Japan and Illinois were among the worst examples of proportional representation (PR) on earth. They just happened to be two examples I'm familiar with. Nor did mean I to blame PR for corruption in either place, notwithstanding mention of the Chicago machine. My point was that the mechanics of the PR system itself, in conjunction with ordinary, honest, partisan and voter behavior, led to bad results.
Of course PR works better in multiparty parliamentary democracies, which are plentiful throughout the world. However, for better or for worse, we do not have a parliamentary democracy in the United States.
In any democratic society, there are a wide variety of sometimes conflicting perspectives and ideas on government policy. One way or another, a governing coalition has to be formed -- and periodically renewed -- from the many squabbling factions.
In the parliamentary system, there is often an assortment of political parties with varying points of view. By voting for one of them, you provide that party with a few more chips in the coalition building phase which takes place generally after the election. Even a small party may join in the government, and may even get one or more cabinet ministers.
Here in the U.S., we award control of the entire federal Executive Branch to the winner of the presidential election. Effective coalition building has to take place before the election rather than afterwards. Since the stakes in this single quadrennial contest are so high, all factions have a powerful incentive to coalesce into two large parties, each struggling to get more votes than the other. Small parties are the dissenters who didn't find a place in the two grand coalitions. Not only do the non-majors have no chance of winning the election, but the Electoral College prevents their national vote totals from having more than psychological relevance.
The presidential contest -- and gubernatorial contests in every state -- make the two-party system the only meaningful route to executive power. And of course this is the context for the (simultaneous) campaigns for seats in Congress and state legislatures. These legislative seats are important, but vastly less so than in the parliamentary system where legislators directly negotiate for control of the entire government. The dynamics of the presidential or gubernatorial race simplifies the legislative contest tremendously, with majority control by one or the other party settled at the ballot box. A divided multiparty legislature (if such a thing could happen here) would be a very weak counterweight to a single-party governor or president and executive branch.
Nathan continues:
My favorite system is actually the one used in Germany and New Zealand, a system that elects half the legislature through single districts but then allocates the rest of the seats to reflect the percentage of the vote received by each party. What this means is that while a party might gain on the individual districts through gerrymandering, it would automatically lose a corresponding number among the proportional seats. I also like the system because it balances local concerns, best done through member districts, and the national issue concerns, better done through proportional seats.
Here again, I feel that the focus on gerrymandering as a fatal problem with districting is unwarranted. A system of districting rules could easily prevent most of those problems.
Moreover, given the low and uneven voter turnout in U.S. elections, a variation between a party's percentage of the statewide or national vote and the proportion of seats won is not necessarily a problem or a dire symptom of gerrymandering. Even if the districts are drawn to have exactly the same number of people, districts with low-income tenant populations will cast sometimes an alarmingly small fraction of the number of votes cast by districts with upper-middle-class homeowner populations. The rich district might greatly outvote the poor district in a statewide election, but at least they each get exactly one state senator.
When I was in college, my friends and I came up with a fascinating scenario: a reform to make the U.S. Senate a truly national body. The senators would all be elected at-large in the whole country, but each voter could cast a ballot for only one. The top hundred vote getters, nationally, would be elected. (Or maybe keep the six year staggered terms, and elect 33 or 34 in each even-year November.)
What would happen? We brainstormed for hours. A tremendously noisy (and fun?) campaign with thousands of candidates. Nationally famous people -- movie actors? authors? sports figures? -- would make very plausible candidates (we see something very similar in Detroit's all-at-large city council, with many nonpolitician celebrity members). Every interest group with a substantial voting bloc could have its "own" Senator: even the Fund for Animals or the smokers' rights lobby. The top candidates would get millions of votes. But for most of the Senators, a single vote would be incredibly valuable; win or lose, each candidate would assiduously cultivate his or her little constituency.
But inevitably, people with practical concerns, like who will control legislation, would look to the cut-off point, the tiny number of votes that will separate the lowest winners from the highest losers. If the candidate you really love already has plenty of votes, pragmatism will prompt you to vote strategically, for someone who might be less perfect, but needs your vote more. Of course, you would want to encourage others to do the same -- and your adversaries will be thinking the same thing. You don't have to think very far along these lines before you get to the problem I described in Japan, where the need to spread party votes across a number of individuals tilts candidate choice toward blandness and mediocrity.
Another typical system intended to promote proportional representation is rank order voting. (Later clarification: where the rank numbers are summed.) My late father, a university professor, once took part in a faculty election to an important post. There were three candidates, of which A. and B. were bitter rivals, while C. was not taken very seriously. One of the two rivals was a close friend of my father's. Voting was to be by rank order; my father announced to me that he would vote for A as first choice, B as second, and C third. I pointed out that he could increase his friend's chances by voting strategically for C second, and B third. He thought this was a brilliant idea, and ran off to spread the word to his like-minded colleagues. His friend won the election.
Probably more often in my experience, rank-order systems are used in elections with many candidates running for a bunch of seats, and voters are asked to rank them, say, 1 to 40, and cautioned not to leave out any numbers or candidates. Of course that is asking for a much more detailed opinion than most people have. Voters start out by assigning 1,2,3,4 to their favorites, and 40,39,38,37 to the candidates they detest. That leaves a vast middle of candidates they don't know or are indifferent to. Most people hurriedly fill in their ballots by assigning the remaining numbers top to bottom, hardly noticing that the 11 given one candidate gives them a huge boost over one near the bottom of the list who gets a 29. People listed high on the ballot are almost guaranteed to win.
Here's my beef: I'm uneasy with any voting system where individuals can artificially increase their influence by voting strategically, where little technicalities like ballot order and plunk voting are likely to control the outcome, or where small groups of fanatics can get hugely disproportionate power just by mastering the voting details. My vision of democracy is that participation and voting should be simple and straightforward and as broad-based as possible.
Those of us who are advocates and candidates and organizers and activists and elected officials have to maintain some perspective: most people are not as obsessed with politics and policy as we are. The overwhelming majority just want to live their lives, and have limited time and attention to devote to public life. The more difficult and complicated the political or voting system becomes, the less most people will participate meaningfully in it.
I should say that despite this small disagreement, I very much recommend "News and Views From Nathan Newman". I enjoy and learn from it almost every day.
---
Monday, May 27, 2002, 9:45 pm
I marched in two Memorial Day parades today, one in Ypsilanti, one in Inkster. The two parades could not have been more different, as if they were for different holidays.
The Ypsilanti parade (note to non-locals: it's IPP-sil-ANN-tee, no "Y" sound at all) is a relatively solemn memorial tribute, with considerable involvement of veterans' organizations and no political banners (just a few discreet signs). The parade stops on a bridge over the Huron River for a ceremony of throwing floral tributes into the water, and moves on from there to the Civil War monument in Highland Cemetery, where further ceremony takes place. The parade route is along sometimes narrow streets, lined with 19th century houses and storefronts. The politicians walk.
The Inkster parade is larger and much more festive, with balloons and bands and political banners and candy "throws". The parade route, along wide Inkster Road, is lined with commercial strip development, mini-malls and small stores built in the 1960s and 1970s. Each politician is accompanied by a retinue all dressed in brightly colored team t-shirts; though the more active ones walk, many others ride in convertibles and wave effortlessly to the crowd.
In Ypsilanti, I wore a jacket and tie and accompanied state senator Alma Wheeler Smith, a candidate for lieutenant governor. Alma, the daughter of Ann Arbor's first black mayor, and one of the most capable Democrats in the Michigan state senate, was a candidate for governor in the August primary, but dropped out of the gubernatorial race a few weeks ago and endorsed U.S. Representative David Bonior. Bonior, in turn, announced that Alma would be his choice for lieutenant governor, should he win the nomination. Since then, the two have worked as a team.
In Inkster, I took off the jacket and donned a bright red "Lynn Rivers/Congresswoman" t-shirt. The Rivers campaign had a car pulling a float with "Dale, the Democratic Donkey" -- a hollow fiberglass staple of local political parades and events for years. Janice walked in this parade with me, and Sarah had great fun riding in the float at Dale's feet. The congresswoman herself, with more energy than the next ten volunteers, dashed from one group of spectators to the next, especially the ones with dogs.
Inkster, just west of Dearborn, was developed by Henry Ford as a place for his black workers to live. The crowds along the parade route were overwhelmingly, maybe 98%, African-American.
One of my companions among the Rivers group pointed out that Inkster is weirdly isolated (in freeway-bound Southeast Michigan) because it doesn't have an exit on I-94. Inkster Road is a major north-south thoroughfare, and Inkster itself is substantial in size and population density, but for some reason, the freeway planners didn't think it merited an interchange. Unfortunately, the Detroit area is strewn with many examples of decisions like this which don't seem to be explainable by anything but racism.
More to come about redistricting, and the congressional and gubernatorial primaries here.
---
Thursday, May 23, 2002, 11:40 pm
Nathan Newman, commenting on the gerrymandering issue, says:
I have to say that many analyses this year are expecting fewer competitive elections than in any year in memory because of the computer precision of new redistricting maps. One radical alternative is to abandon single member districts that are so prone to redistricting games. The Center for Voting and Democracy supports a range of alternatives such as proportional representation and multi-member districts.
I'm skeptical of this on a number of levels.
First, the main reason there has been a sharp decline in the number of competitive elections (including primaries) for Congress and other offices is the shortage of candidates. For all kinds of reasons, we have seen, since about 1980, fewer people getting involved in politics, and hence a smaller pool of activists and candidates, pretty much everywhere in both parties.
What few really good candidates remain know they're a scarce commodity, and tend to be unwilling these days to risk their reputation on a chancey race against an incumbent. Without a genuine candidate, the party will nominate a nonentity, who will put on a noncampaign, and the twin myths of incumbent invincibility and noncompetitive districts will continue to grow.
Second, a real, greedy, partisan gerrymander, where it happens, tends, if anything, to increase the number of competitive districts, by covering as much of the state as possible with districts that will vote 55% for the party drawing the lines. Making utterly safe districts for your own party is a colossal waste of votes in the gerrymandering game. You strive, instead, to create just a few safe districts for the OTHER party to waste their votes in.
If district lines are spun in an effort to reduce partisan competitiveness generally, that is normally an "incumbent protection plan" which is nobody's first choice. Sometimes courts order these. I suppose they could result from divided partisan control of the process, but here in Michigan, divided control of redistricting has never resulted in any bipartisan compromise plan ever being proposed or adopted.
I reject the notion that incumbent protection plans drawn with computer assistance are really any better, or more mysteriously powerful, than incumbent protection plans drawn the traditional way.
Another source of decline in partisan competitiveness in many districts, independent of the way the lines are drawn, is simply the regional polarization of the American electorate, which by many accounts is getting worse. The "red counties" that Bush won by a wide margin are getting redder, while Gore's "blue counties" are getting bluer. Certainly this very Blue county (Washtenaw) has gotten steadily bluer over the last decade. (I bow to widespread media usage; I used to color Republicans blue and Democrats red.)
Third, multi-member districts and proportional representation. These are not genuine alternatives!
Multi-member districts used to be a calculated method to submerge and prevent urban minorities from electing their own representatives. Single-member districts were long advocated as an improvement, and have in fact provided tremendous improvement in minority representation. I'm not willing to turn my back on that progress.
I have known a number of folks who rode the proportional representation hobbyhorse. My friend and colleague Zolton Ferency, at the time of his death, was pushing an initiative to replace the Michigan house and senate with a unicameral body to be elected through proportional representation.
Proportional representation might be nice in theory, but I am very skeptical of how it would work in the real, two-party world. Japan's Diet (national legislature), and the Illinois House of Representatives in 1870-1980, offer two appalling examples.
In Japan, parties seeking control have to spread their votes evenly across a number of candidates per constituency; individual voters are not permitted to vote for all of them. Any one candidate who attracts more than his equal share of party votes is a liability -- the votes he attracts away from the other candidates may cause them to lose. Hence, the Japanese parties take care to nominate only the blandest and most mediocre candidates. This has some awful impacts on the country's governance.
Illinois for more than a hundred years elected three members from each House district by a cumulative voting system. Most districts elected two Republicans and one Democrat, or one Democrat and two Republicans. Some who miss this system (and are actually campaigning to get it back) point out that it meant downstate Democrats and Chicago Republicans always got representation. On the other hand, many of the Republicans elected from Chicago districts were shills for the Chicago Democratic machine, and took a walk whenever there was a close partisan vote.
But worse yet, the system brought political stagnation: in any legislative election, hardly anyone was at any serious risk of losing a seat. Most Illinois state representatives never had to worry about "competitive elections"! Public input into the makeup and membership of the legislature was minimized; the legislature was insulated from democracy. I don't think that's a good thing.
A lot of the advocacy for proportional representation comes from people who don't like the two-party system. Those who like particular third parties surely find the dominance of two parties frustrating. Winner-take-all elections, like the presidential election, mean that the only route for a small party to play a winning role is to become a major party. And that hasn't happened since the 1850s.
The nation is pretty well hard-wired, both institutionally and psychologically, to the concept of two major parties, with a lot of individual independence from party. The European parliamentary democracies, admirable in some ways, have an entirely different framework, including many things Americans wouldn't like: serious party discipline, zero authority over anything for political parties not in power, radically centralized control over local government, etc.
The U.S. system, messy and imperfect as it is, allows Montana and New York, say, to do very different things in matters of policy. However, we are sufficiently a national culture that I can't imagine Zolton's plan for making Michigan a multiparty state would have succeeded. To the extent that most voters can be persuaded to vote strategically, they will do so in the interest of the Democratic or Republican parties. Short of a total revolution in the U.S. system of government, the two-party system is here to stay.
To get better districting, we need objective and enforceable rules to limit the amount of discretion afforded to line-drawers. To get more competition, we need to encourage more people to become activists and candidates.
---
Thursday, May 23, 2002, 1:45 am
As promised, there is now an Archives, and item links are now permanent. Unfortunately that means old links to items are broken -- sorry about not getting that right at the outset.
I'm quite flattered at the recent attention this page has received. Nathan Newman calls it a "great new blog". Gregory Hlatky says I'll be "a credit to the Blogosphere". Andrew Northrup says I'm "more of an essayist than most blog-keepers". And Paul Musgrave, writing in the Hoosier Review, deems my effort to be worthy of the list of "blogs of note": "Kestenbaum is a practicing politician ... and Larry can write.". Many thanks to all.
---
Wednesday, May 22, 2002, 4:00 pm
Recovery from the surgery is not going quite as well -- or as quickly -- as I'd like. Today marks two weeks from the surgery itself, and I'm still experiencing quite a bit of throat pain. Worse yet, I'm back to waking up groggy again. However, my surgeon cautions that due to swelling, pain medications, and all kinds of other issues, we won't really know how well it has all worked for some weeks yet.
I note the problems other bloggers have recently been having with blog software, which makes me happy I chose to do my own. Soon, I will create an archive and make all the item links work permanently.
---
Tuesday, May 21, 2002, 6:58 pm
The United States Constitution provides the basis for patent and copyright law by granting Congress the power:
To promote the Progress of Science and the useful Arts, by securing for limited Times to Authors and Inventors the exclusive Right to their respective Writings and Discoveries;
Copyrights are granted on original works for a certain term provided by law. When the term expires, the works go into the public domain, available for anyone to use. Until the 1970s, copyrights in the U.S. were granted for a term of 28 years, easily renewable for another 28 years, for a total of 56 years.
Over the past 40 years, Congress, lobbied by Disney and other powerful owners of valuable old copyrights, has retroactively extended the term of existing copyrights many times. The extensions, one after another after another, have made a mockery of the "limited times" provided in the Constitution; it was obvious that no copyright would be allowed to expire if Congress could prevent it.
The last straw was the Sonny Bono Copyright Term Extension Act, which added another 20 years. Sonny Bono and his widow and successor in Congress argued that copyrights should last "forever less one day." Needless to say, those of us who work with historical materials find this attitude chilling.

A challenge to the constitutionality of the Bono Act was brought by a group of plaintiffs led by Eric Eldred. On February 19, the U.S. Supreme Court agreed to hear the case, causing shockwaves in the intellectual property world.
Yesterday, Eldred's team filed opening briefs. There's a dazzling list of supporting amici, including the Free Software Foundation, Intel Corporation, Eagle Forum (Phyllis Schlafly), Milton Friedman (as part of a group of 17 distinguished economists), the National Writers Union, and of course old public domain stalwarts like the American Libraries Association, the American Historical Association, the Organization of American Historians, and so on.
This is one instance where I am grateful for the Supreme Court's recent willingness to be skeptical about the powers of Congress. Moreover, when the Supreme Court takes a case, it reverses the lower court outcome 80% of the time.
Argument is likely to be scheduled for this fall.
---
Monday, May 20, 2002, 8:21 pm
The long-anticipated hearing in federal court on Michigan's congressional redistricting, scheduled for tomorrow, has been canceled. Earlier indications were that the court might be inclined to undo the legislature's districting plan -- they ordered the filing deadline for congressional candidates be pushed back all the way into mid-June. Now, it seems almost certain that the plan will be upheld.
The courts reluctantly got involved in redistricting forty years ago, with Baker v. Carr (1962), because those aggrieved by severely malaportioned state legislatures and congressional districts had literally no other remedy.
Baker was an extreme, obvious case: the Tennessee constitution required regular redistricting to take account of population shifts, and the legislature had simply ignored this requirement for decades. However, more often, the problem was structural. In almost every state, the largest cities had drastically less representation per capita than the countryside. Many states had senates set up in imitation of the U.S. Senate, with one senator per county: that is, one for Los Angeles County, one for Modoc County, one for Mendocino County, etc., even though counties are not fundamental the way states are. In Michigan, the boundaries of senate districts were written into the state constitution, and could only be changed by constitutional amendment.
The early redistricting cases had an almost civics-textbook simplicity. Under the slogan "one man, one vote," the idea was to equalize the power of a vote across all of a state's cities and counties, so that representation was fair to everyone. The old arrangement was usually so arbitrary and wrong, and it was easy to improve on it by simply moving some counties around and equalizing the district populations. The focus at first was solely on population; from a judge's standpoint, the precise layout of districts to achieve the population numbers was trivia best left to others.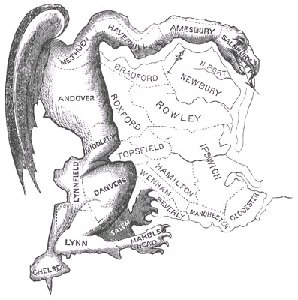 Gerrymandering was not unknown before the 1960s, of course, but in practice it was so easy to create or perpetuate nice square districts that had radically different populations that it was hardly necessary to be very creative with district boundaries. "One man, one vote" ushered in an era in which all representative districts everywhere were regularly redone, and were always subject to legal challenge by courts that had been taught to be skeptical about deviation from the ideal of population equality. The drive toward population equality gave permission to break up counties and cities, so redistricters had the freedom to draw district lines wherever they pleased. And, of course, the people wielding the pens are intensely partisan.
Speaking as someone who has been involved in every aspect of the gerrymandering game, it is hardly the "black art" or "statistical magic" that overawed journalists make it out to be. The building blocks are simply ordinary blocks or neighborhoods, most of which are politically marginal and could really go either way. And the party drawing the districts faces the tension between protecting its incumbents and extending its majorities more thinly across a greater number of districts.
A really tortured set of district boundaries is usually a sign of a party's weakness or desperation. And it often doesn't work, since even a small shift in the voters' partisan preferences throws off all the calculations. For a law school term paper, I used county commission districting in Michigan's 83 counties during the 1970s to demonstrate statistically that the party that drew the districts is helped less (gaining fewer seats) by partisan shifts in its direction, and hurt more (losing more seats) when voters shift toward the other party.
I feel strongly that the public has an interest in the way districts are drawn, and that there should be rules which put those interests into effect. Keeping communities together in the same district makes it easier for people to understand and participate and is pro-democracy. Splitting of counties and cities should be kept to a minimum. Districts should be compact, but given how complex many municipal boundaries already are, and how difficult it is to calculate mathematical compactness in a reliable way, the rules shouldn't make a fetish out of compactness. Districts should be equal in population, because any variance that is allowed will inevitably be exploited for partisan purposes. And so on.
If the rules are good, and adherence to them is required, it doesn't really matter who draws the districts. Parties will still pursue their objectives, but the rules would limit their maneuvering room.
More about this -- and the Michigan congressional districting case - later.
---
Saturday, May 18, 2002, 3:52 pm
In my position as county commissioner, I am the recipient of a nonstop blizzard of paper and electronic messages. Official reports and budgets and agendas and minutes and proposed resolutions and management reports and constituent letters and pleas and construction progress reports and litigation summaries and on and on, of course, but also every newsletter or reception invitation from every nonprofit agency that ever had any kind of relationship with the county government, or hopes to, not to mention the townships association, the municipal league, the Michigan and national associations of counties, the retirement systems the county belongs to. And this is a mere trickle compared to the real flood of stuff I used to get when I served in Ingham County, where (due to structural differences) the commissioners have much more involvement in day-to-day operations.
This experience makes me almost a little sympathetic now that the president is under attack for supposedly missing or ignoring a memo which, for all we know, announced in advance that four airliners would be hijacked on a September morning and crashed into the World Trade Center and the Pentagon.
Obviously if I, as one person without help, am not really capable of reading every single piece of paper that comes my way as county commissioner, I can't even imagine how the president and his staff handles the immensely larger flood that comes to the White House. If a failure occurred in this case, surely it was an organizational one -- particularly if the clues were scattered across a number of different memos or messages from different sources.
The problem isn't easy, even for large organizations stuffed with highly motivated and intelligent people. I'm reminded, for example, of how much had to happen, how much information was processed, how many unnoticed and unheeded warnings were made, before the Centers for Disease Control officially began to realize that an epidemic of immune system deficiency was under way. As Randy Shilts tells the story in As The Band Played On, the federal government was finally alerted to the syndrome later known as AIDS by a GS-7 drug technician named Sandra Ford, who wrote a memo on April 28, 1981.
The opportunity, if there was one, to receive and understand the warnings about the September 11 attacks would have been during the months of June, July, and August. Josh Marshall (Talking Points Memo) points out that during that critical period, the FBI was essentially leaderless -- from Louis Freeh's departure in early June until Robert Mueller arrived on September 5.
Not really anyone's fault, of course, but it may be that the timing was disastrous.
---
Thursday, May 16, 2002, 1:06 am
Gregory Hlatky, my politically conservative mentor in blogging, wrote the following the other day:
I read Jean Raspail's shocking novel The Camp of the Saints many, many years ago. Somehow it seems germane to our times as well. The story is about an armada of ships carrying a million people which makes its way from India to France. The West is faced with a dilemma: does it try to repulse the voyagers or let them in? Troops are dispatched to the southern coast of France to make a stand. With the invasion imminent, in a midnight broadcast the President of France comes to the point of ordering the army to open fire, but gives way at the last second and leaves the decision to the conscience of the soldiers. The army melts away, the armada lands, and social order disintegrates.
At the time, the novel was widely attacked as racist, a view I didn't agree with then and don't agree with now. One of the twenty people who hold out against the invaders in a villa enclave is a Franco-Indian.... Rather, the point to me is different: is Western civilization worth defending? In the novel, there are those - politicians, columnists, clergy, broadcasters - who sympathize with the Last Chance Armada and do what they can to undermine resistance. They fare no better than the resisters when the landing occurs.
Greg uses this to make a point about defeatist voices in the West since September 11th, and apologists for terrorism. Opposing them has been dubbed "anti-idiotarian." I think I do my part on that front. But the "shocking novel" he cites turns out to be something that raises my personal hackles tremendously.
I had not even heard of The Camp of the Saints before I read this posting. I did a Google search and discovered more than three hundred pages reviewing, discussing or excerpting it [update 5/28/2006: more than thirteen thousand]. Aha, I thought, an interesting debate in progress.
But I was mistaken. Review after review proclaims the book to be brilliant, a classic, a masterpiece, a wake-up call. And many of the sites featuring these hearty recommendations are openly racist, white supremacist, Holocaust "revisionist," neo-Nazi, and the like. Clicking the links on those sites draws me inexorably into a depressing and frightening world, with miles of hateful screeds against Jews, blacks, Hispanics, immigrants, and whoever else.
On Amazon.com, The Camp of the Saints has accumulated 30 customer reviews, only three of which are flatly negative; almost all the rest are raves. Many of these point out and applaud the book's racism. (Note well that I have no objection to Amazon carrying this title and hosting these comments.)
I have not read the book, but the amazing plethora of detailed reviews, plot summaries, and excerpts I found on the Web give me a pretty good idea how it goes. Leaving aside the racial aspects, as Greg does, it portrays France, and eventually the entire West, as having been weakened from within by the influence of Christianity, charity, multiculturalism, tolerance for diversity, and social justice, as popularized by clergy, academics, entertainers, the media, and politicians. Because of them, France and other countries lack the will to fight off the Last Chance Armada; Western Civilization is totally destroyed in a matter of days.
Is Western civilization really so weak and decadent? Certainly it's a matter of history that almost every currently advanced country was founded and built by men who were willing to be considerably more brutal than we are today. Indeed, that's the reason readers of history are cautioned not to judge long-ago figures by today's moral or ideological standards.
Over the last few hundred years, the Western world has enjoyed a vast improvement in social conditions, hand-in-hand with changes in values (as well as technology and economics, of course). Western society did not suddenly become humane and compassionate in the 20th century. Brutal monarchies yielded slowly, across many eras, to new ideals of fairness, justice, democracy, and individual liberty. Indifference to the weak and disabled, to the proverbial widows and orphans, gradually yielded to the creation of humanitarian imperatives and institutions to care for them. These are precisely the kind of things we should, and do, value about our civilization, and precisely the kinds of things that make (to use Raspail's examples) France a better place to live than Calcutta.
One of the key tenets of our civilization is that it is immoral to use violence against those who do not threaten us with violence. This is the seeming loophole in our moral defenses through which Raspail's Armada sails in. But imagine a different ending to the novel: instead of shrinking away from confrontation with the passengers of the Armada, French men and women rise up in righteous wrath and crowd down to the coast, so that all could take part the an epic bloodbath -- needless to say there is precedent for this. The invaders are slaughtered, and Western civilization is saved. Or is it?
One of the lessons the Nazis taught us (though they were hardly the first) is that there are some questions with no moral answer. Sadistic concentration camps apparently loved to play these games with the inmates. You pick: shall we put your son to death now, or your daughter? Choose quickly, or your whole family goes. Every answer you can possibly come up with is wrong, and it's your fault. If you survive, you'll be tormented with guilt forever.
The old adage among lawyers is that hard cases make bad law. If you base your principles on a handful of wrenching, extreme cases, they're going to make endless trouble in the millions of routine ones. To generalize from the fictional scenario in Raspail's story that we need dramatic changes in our core values of humane dealings with people would indeed be idiocy.
But to Raspail's many online enthusiasts, the story is not fictional. A few examples:
The only difference is that the novel moves in fast forward; it covers in months what could take decades.
History is speeded up to happen over the course of days rather than a couple of decades or a generation. In real life things don't come about so quickly, but the principle remains the same.
The process he describes is currently in progress, albeit in a slow, deliberate way.
To that, I say: utter nonsense!
Lengthening the time element to decades and generations makes the new-arrivers issue qualitatively different. People do change in time; they are profoundly influenced by the culture around them; and their children will be more different yet. For a new arrival, a disinclination to join the new country's culture is severely maladaptive, even in big cities stuffed with immigrants from your old country. The first American generation knows better than to get bogged down. This is amply demonstrated by hundreds of years of American experience.
I once read a detailed profile of a New England coastal village, written, I think, in the 1950s. The writer spent some time there, got to know the people and their roles and activities, as fishermen, repairmen, shopkeepers, carpenters, schoolteachers, and so on. The place was very old, founded in the 17th or 18th century, and many of its New England Yankee ways and traditions dated back almost as far. There had been the usual technological changes, of course, but in many important ways, the village was very much as it was a hundred years earlier.
The punchline was that not one of the many people profiled was of Yankee origin; many had not even been born there. The old Yankee families were gone, their descendants leaving one by one, and the new people, Irish and Italian Catholics mostly, had gradually taken their places and assumed their roles. The culture of the village carried on and incorporated them, so that the newcomers had even assumed the eccentric speech habits and mannerisms of Yankee New Englanders. And a similar process took place in towns all over New England.
The Raspail-adoring and anti-immigrant sites gloss over such facts on the ground. The 1880-1924 immigrants were easy-to-assimilate white Europeans, they say, never mind that they were illiterate peasants, spoke a dozen or more languages, and worshipped God in unfamiliar ways. But the literature of nativism a hundred years ago denounced them in even harsher terms than we normally see today, and despaired totally of their willingness or ability to assimilate.
Another curious theme of Raspail's novel, obvious from many excerpts, is interracial sex. One Indian even refers to his country as "a river of sperm," and the postinvasion leaders of France place a heavy emphasis on black men impregnating white women. A quarter century ago, Charles H. Stember, in his pessimistic and deeply contrarian little book Sexual Racism, found that sexual fantasies like these played a central role in the ideas of the Ku Klux Klan and other racist organizations. And indeed, Raspail's writings and interviews since The Camp of the Saints leave no room for doubt about his own ardent views on race.
There is an interesting Jewish perspective on the paradox of compassion and mass poverty which I will get to another time, I think.
Finally, I'm startled by the realization that I have seen the Armada of Hope scenario before, in a very different context.
Neal Stephenson's novel Snow Crash portrays the Raft, a ragtag collection of boats and makeshift craft centering on a decommissioned U.S. aircraft carrier, with a vast cargo of Third World poor, floating unpowered on Pacific Ocean currents. The Americans and Canadians monitor the progress of this pestilent armada and quibble nervously over what can be done, as it nears the California coast. Stephenson surely borrowed this story line from Raspail, but he develops it very differently.
---
Tuesday, May 14, 2002, 6:08 am
Ben Edelman, a student at Harvard, has done a marvelous job exposing and documenting the way spammers abuse the domain name system. Just last month, he released a report titled Domains Reregistered for Distribution of Unrelated Content: A Case Study of "Tina's Free Live Webcam".
As he wrote to Wired's Declan McCullagh:
In casual web surfing, many Internet users have stumbled into a seemingly-innocuous domain name that oddly presented a screen full of sexually-explicit images. Usually, this causes a momentary puzzle that's forgotten in an instant, but when it happened to me at bicyclebills.com (warning: sexually-explicit images), I decided to investigate the Tina's Free Live Webcam operation to which bicyclebills.com had redirected me.
My research -- thanks to some searching by various automated systems I developed for the purpose -- yielded a list of 4525 distinct domains that each lead to the Tina's Webcam site. Reviewing Yahoo, Google, and archive.org reflects that many (if not most or all) of these domains were previously registered by others -- who ultimately by and large seem to have let the domains expire, whether through forgetfulness, confusion, or lack of interest.
Since then even the national media have noticed the problem: if a domain name with a significant number of inbound links is allowed to expire, it will be snapped up and redirected to funnel hits to porn sites. I suspect that if the former owner is motivated to get his old domain back, there is a heavy ransom to pay.
The policy implications of this are not too obvious -- I'd be skeptical about the notion of tying up a disused domain name forever. Maybe there are a few simple things that could be done to make this invidious practice less convenient. But in the meantime, it's an awful cautionary tale for those of us who own popular domain names.
According to the updates now included in the "Tina's Free Live Webcam" report, the spammers responded to the publicity by redirecting all those domain names to something else. But as of May 10, they're pointing to Tina again, and as Edelman writes, "New data also suggests that DomainStrategy continues to reregister additional domains and ordinarily displays Tina content on them."
Not content to rest on that impressive work, Ben is at it again with a new report: Large-Scale Intentional Invalid WHOIS Data: A Case Study of "NicGod Productions" / "Domains For Sale". Essentially this documents another webspam provider with a similar strategy -- but this one tries to cover its tracks by providing systematically fake information for the domain name ownership and contact database, and hence undermines one of the few sources of accountability on the Internet.
Declan McCullagh also reports that a congressional committee is preparing to vote on a bill which would "provide criminal penalties for providing false information in registering a domain name on the Internet."
Um, sure, if it's enforceable. Of course, spammers usually pretend to be based in Korea or China, out of reach of U.S. law. It would be cool if federal prosecutors actually spent time to trace perpetrators of domain name fraud to the western suburbs of Chicago, or wherever they really are, and prosecute them, but they probably have other urgent priorities.
But kudos to Ben Edelman for shining his analytical spotlight on a shadowy world.
---
Monday, May 13, 2002, 1:40 pm
Even though the surgery went well, and the results seem to be excellent, surgery is an invasion of the body, an "insult" (medical term) which leaves you struggling. Yes, I am more alert now -- but while I am recovering, I have little physical stamina. A trivial action, like going down to the basement to retrieve a book, or picking up some of Sarah's toys off the floor, leaves me winded. I'm accustomed to being a big strong guy, but for a while I have to be pathetically weak and dependent.
Another novel experience of apnea-free life: caffeine produces insomnia! Before, I could fall asleep anywhere, any time. I could drink unlimited amounts of coffee any time of day -- indeed, I had to. Now it appears that a cup of coffee after dinner keeps me awake in bed for hours.
---
Monday, May 13, 2002, 7:08 am
Welcome to my new weblog.
Last week, I saw a post (May 3) by Gregory Hlatky on his blog A Dog's Life, which referenced a Forbes article on The World's Ugliest Buildings. I didn't like the article, and I wrote a long rant about it to Greg. To my surprise, he proceeded to post it in full (May 4).
That exchange inspired the creation of this page. If my letters are as blogworthy as all that, I suppose I should make them more easily available. Since I don't find any blogging software that appealed to me, I'm starting with just very simple HTML. I'll fancy it up later.
---
Sunday, May 12, 2002, 2:59 pm
Thanks to everyone who has sent kind notes full of good wishes.
My surgery (tonsillectomy, UPPP, septoplasty, to treat obstructive sleep apnea) took place on Wednesday, May 8. Apparently it was more complicated than they expected, and it took three hours.
I didn't get much sleep the night before -- still busy with all the last minute things I had to do. I received the surgery scheduling call from, of all people, Mary R., a nurse who I know well through online conferencing. Kindly forgetting all of our online disagreements, she was plainly thrilled to have me as a guest of her unit, and said she would make sure I had the best nurses attending to me.
So, Wednesday morning, flat on my back on a gurney, I was wheeled into the operating room. Even in my addled state, I could see the architectural features: this was plainly a special, ceremonial space, a focal point to which much else was ancillary. It had a very high ceiling, and the walls were done all the way up in tan ceramic tile of a kind I had not seen elsewhere in the building. The elegance and intense focus of activity, and the hushed crowd of doctors and retainers in immaculate uniforms, made me think of a corporate board room, or perhaps the inner sanctum of the grand lodge of some great secret society.
I awoke in a noisy and busy room. I was uncomfortable but not in much pain. Gradual euphoria: I had survived the operation! I was asked many times the scale-of-one-to-ten pain question, and answered it honestly; I think the highest number I reported was three. Eventually it settled down to "1 in general, but 2 when I swallow." The nurse said she would put that down as a 2.
Presently I was taken to a regular hospital room to spend the night, still flat on my back. The hospital bed was contorted in such a way as to make it impossible to get comfortable. I couldn't move my left arm much because of the IV and associated equipment. An annoying mechanical device slowly squeezed each of my lower legs in turn, all night, and helped keep me awake, but presumably kept the circulation going. Nurses kept showing up at regular intervals to take my blood pressure, even though the reading hardly varied from 120/70.
The other half of the room, behind a curtain, was occupied by a busy executive type with painful blood clots in his legs. He wasn't happy to have his schedule interrupted, and was on the phone almost constantly until late.
To my left was the window, through which I could see the unfamiliar Modernist cityscape of the middle of the huge university hospital complex. Though many buildings were visible, I couldn't see the ground, and had no idea how high up I was. (Later I was surprised to learn that I was only on the 5th floor.)
The night passed with cruel slowness. No clock was visible, but I eventually figured out to pick up the phone and call the automated time lady. I thought it must be almost dawn, but it was 1:14 am. I managed to sleep for a while, but it was only 1:22. And so on, and on. This couldn't be good: two consecutive nights with very little sleep.
Around 7:30 am, the surgeon and her two assistants showed up. They seemed almost disappointed that I wasn't in more pain.
I remembered, but carefully didn't mention, the saying attributed to professionals in the tattooing and body piercing industry: "The bigger the guy, the bigger the cry." On the other hand, middle aged men who get this kind of surgery for sleep apnea are always going to be big guys.
My tonsils had turned out to be much bigger than she expected: size 3+ rather than size 2, where 1 is normal. My nasal passages were unexpectedly complex. Apparently this showed that my deviated septum had not been due to some early trauma -- I was just made that way.
They warned me not to blow my nose for two weeks (a hard rule to live with). I was not to do any heavy lifting -- ten pound limit. They repeatedly warned me not to do any roofing, as if they suspected I had predilections to climb up on top of the house and start nailing shingles down. "No roofing!" were the surgeon's last words to me. I am not making this up.
After that, I was visited by Annie Rose, the chazan (cantor) of our temple. Visiting the sick is one of her roles. I told her about my friend with metachromatic leukodystrophy, and some other happier stories. She was very surprised to see me in good spirits and talking -- she said she had never seen someone in such good shape the day after an adult tonsillectomy.
"I'm not the most body aware person," I explained yet again, and told the story about my last trip to Washington DC. I flew there for a conference last year (National Association of Counties) and walked everywhere; my feet became extremely sore. But I had made plans to attend a dance at Glen Echo Park, and gotten the subway/bus directions from the D.C. Folkdance Society web site. As I got to Glen Echo, it was pouring rain, my feet were killing me, and I wondered who I thought I was kidding, going to a dance? But when I got there, I forgot about the pain in my feet, danced every dance, and had a great time.
After Annie left, one of the nurses brought some pretty unappetizing clear-liquids breakfast, and (to my great relief) disconnected the IV. A wheelchair was found, and Janice (my wife) arrived to take me home.
At home, other complications arose. Janice and Sarah (age 3.5) both came down with some kind of flu-like illness. By Friday I was in better shape than they were, and I was answering the phone and helping take care of them.
But it is obvious that I am sleeping better than before. The experience of waking up alert is very novel for me. Not only do I have more energy, but I have more stick-to-it-iveness and I'm much more productive. I have added many hundreds of 19th century political figures to the Political Graveyard database since Wednesday.
My friend Ken J., the obscure-music maven, dropped off a stack of CDs for me: German, Scandinavian, British Isles, and Eastern European folk or folk-influenced music, some of it infused with jazz and other influences. I have liked all of it so far.
So here I am, home, on a diet of yogurt, ice cream, pureed potato soup, and the like, with a mild sore throat. No deadlines, no driving, no meetings, no co-workers, no calls to return. Just pleasant music, great fun with my database, and the bosom of my family. The only concern is that the doctors might decide I don't really need three weeks off work.
---
2002:
May / June / July
August / September / October
November / December
2003:
January / February / March
April / May / June / July
August / September / October
November / December
2004:
January / February / March
April / May / June / July
August / September / October
November / December
2005:
January / February / March
April / May / June / July
August / September / October
November / December
2006:
January / February / March
April / May / June / July
August / September / October
November / December
2007:
January / February / March
April / May / June / July
August / September / October
November / December
2008:
January / February / March
April / May / June / July
Lawrence (Larry)
Kestenbaum
Note: HTML formatted email goes to my spam folder, where I may miss it. For effective communication, please use plain text with no attachments.
---
Archives:
Current
July 2008
June 2008
May 2008
April 2008
March 2008
February 2008
January 2008
December 2007
November 2007
October 2007
September 2007
August 2007
July 2007
June 2007
May 2007
April 2007
March 2007
February 2007
January 2007
December 2006
November 2006
October 2006
September 2006
August 2006
July 2006
June 2006
May 2006
April 2006
March 2006
February 2006
January 2006
December 2005
November 2005
October 2005
September 2005
August 2005
July 2005
June 2005
May 2005
April 2005
March 2005
February 2005
January 2005
December 2004
November 2004
October 2004
September 2004
August 2004
July 2004
June 2004
May 2004
April 2004
March 2004
February 2004
January 2004
December 2003
November 2003
October 2003
September 2003
August 2003
July 2003
June 2003
May 2003
April 2003
March 2003
February 2003
January 2003
December 2002
November 2002
October 2002
September 2002
August 2002
July 2002
June 2002
May 2002
Complete Run (900k)
---
Michigan Blogs
including some who moved away
Arblogger
David Boyle
The Stopped Clock
Aaron Larson
Wigblog
Richard Wiggins
Vacuum
Ed Vielmetti
Goodspeed Update
Robert Goodspeed
There Is No Law
Chetly Czarko
The Hamtramck Star
Hillary & Steven Cherry
A Later Date
Laura Fisher
Failure Is Impossible
Maia Cowan
---
Blogs: Elsewhere
Talking Points Memo
Joshua Micah Marshall
Eschaton
Atrios
Making Light
Patrick & Teresa Nielsen Hayden
The Sideshow
Avedon Carol
Odds 'n Ends
Natalie Maynor
An Unenviable Situation
Seth Edenbaum
Freedom To Tinker
Edward W. Felten
Delaware Law Office
Larry Sullivan
Balkinization
Jack Balkin
Bag and Baggage
Denise Howell
How Appealing
Howard Bashman
MaxSpeak
Max Sawicky
Easily Distracted
Timothy Burke
Hullabaloo
Digby
Alas, a Blog
Ampersand
No Longer the World's Slowest Blog
Laurie D. T. Mann
The Poor Man
Andrew Northrup
Political Parrhesia
Craig Cheslog
Boing Boing
Cory Doctorow
Yet Another Web Log
Vicki Rosenzweig
Altercation
Eric Alterman
Wis[s]e Words
Martin Wisse
The Truth Laid Bear
N. Z. Bear
Uggabugga
Quiddity Quack
Amygdala
Gary Farber
Weblog V2
Mike Gunderloy
Ruminate This
Lisa English
Sisyphus Shrugged
JMHM
The Shifted Librarian
Jenny Levine
Infothought
Seth Finkelstein
give love:get love
Arthur Coddington
No Watermelons Allowed
J. Bowen
Off The Pine
Michael Pine
City of Bits
Louise Ferguson
---
News Sites
Politech
Declan McCullagh
---
On Hiatus:
Mind Over What Matters
Last post December 1, 2005
The Sardonic Subversive
Last post November 28, 2005
Amitai Etzioni
Last post October 18, 2005
Lefty Directory
Last post September 3, 2005
Uncommon Sense
Last post August 31, 2005
The Hamster
Last post April 29, 2005
Prometheus Speaks
Last post February 15, 2005
Lies, Damned Lies, and Statistics
Last post August 1, 2004
Odd Things in Pitt's Libraries
Last post September 15, 2003
Ted Barlow
Last post September 2, 2003
The Rehabatorium
Last post August 5, 2003
Sassafrass Log
Last post July 12, 2003
Trip Reports from Imaginary Places
Last post January 6, 2003
The Serenity
Last post June 20, 2002
---
Web Rings:
<<
List
Jewish Bloggers
Join
>>
---
---